HOLIDAYS DIRECT DISCOUNT GUARANTEE
Book any Travelmarvel Tasmania tour with us and we will provide you with a further 5% discount off the best available price we obtain from Travelmarvel. Our discount can be used in conjunction any other Travelmarvel offers that you may be entitled to ie. Earlybird, Early Payment, Past Traveller etc.

10 DAY GRAND TASMAN
---
Launceston • Ross • Port Arthur • Hobart • Strahan • Cradle Mountain
On Travelmarvel's 10 day Grand Tasman tour, discover the pristine wilderness, heritage towns and cultural sights. This tour will begin and end in Launceston. Discover convict history at Port Arthur Historic Site and cruise the Isle of the Dead. Cruise Macquarie Harbour and the Gordon River to Sarah Island.
Accommodation:

Well located, clean and comfortable hotels

Quality Dining:

Includes up to 18 meals
Departures from Sep 2013 - May 2014
From

$2725

(Breakfast only) or

$2995

(Dinner and Breakfast) per person twin share
Single and Triple rates also available - please enquire
Remember this is the from price before any eligible discounts have been applied
Call 1300 300 633 or email for our discounted quote, to book or just to discuss this tour.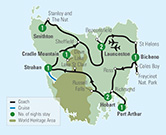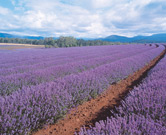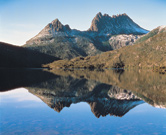 NB. Click on map to enlarge
DEPARTURES
DATES

Start Date
End Date
Availability
17 Sep 2013
26 Sep 2013
Yes
1 Oct 2013
10 Oct 2013
Guaranteed Departure
15 Oct 2013
24 Oct 2013
Yes
29 Oct 2013
7 Nov 2013
Yes
12 Nov 2013
21 Nov 2013
Yes
26 Nov 2013
5 Dec 2013
No
10 Dec 2013
19 Dec 2013
Yes
24 Dec 2013
2 Jan 2014
No
14 Jan 2014
23 Jan 2014
Yes
21 Jan 2014
30 Jan 2014
Guaranteed Departure
28 Jan 2014
6 Feb 2014
No
11 Feb 2014
20 Feb 2014
Yes
18 Feb 2014
27 Feb 2014
Yes
25 Feb 2014
6 Mar 2014
No
4 Mar 2014
13 Mar 2014
Yes
18 Mar 2014
27 Mar 2014
No
25 Mar 2014
3 Apr 2014
Yes
8 Apr 2014
17 Apr 2014
No
22 Apr 2014
1 May 2014
Yes
6 May 2014
15 May 2014
Yes
Room Types*
Meal Plan Options
Double/Twin
Single
Triple
Room and Breakfast from
$2,725.00
$3,505.00
$2,589.00
Room, Breakfast and Dinner from
$2,995.00
$3,775.00
$2,845.00

* Number of travellers, per person price. All prices displayed in Australian Dollars.

Click here to view Earlybird Special offers for 2013/14 selected itineraries.



BOOK WITH HOLIDAYS DIRECT FOR A BONUS 5% DISCOUNT OFF ANY TRAVELMARVEL TOUR
CHOICE OF MEAL PLANS
Options Available:
Room and Breakfast
Room, Breakfast and Dinner
No matter which meal plan you choose, you'll be able to enjoy a Welcome and Farewell Dinner with your fellow travellers, giving you the opportunity to taste local cuisine and all included in the cost of your tour.
ITINERARY
Please note: Dx1 = Dinner; Lx1 = Lunch and Bx1 = Breakfast. However the actual included meals will depend upon the MEAL PLAN that you choose to purchase with the tour.
Day 1. Arrive Launceston, Beaconsfield, Welcome Drink and Canapés
Transfer to your hotel and begin your journey with a drive through picturesque farmland and vineyards following the Tamar River. Like a Local – visit the gold mining town of Beaconsfield, and take a guided tour of the Mine and Heritage Centre. A Taste of Tasmania - enjoy canapés and a Welcome Drink as you wander through the gallery at the Design Centre of Tasmania, followed by a Welcome Dinner this evening.
Stay: Mercure Hotel Launceston
Dx1
Day 2. Bridestowe Lavender Farm, East Coast Natureworld, Freycinet National Park, Bicheno
Drive through the scenic wine-producing area of northern Tasmania. Like a Local - at Bridestowe Lavender Farm, enjoy a guided-tour of the distillery and sample the unique lavender-inspired fare. Traverse Weldborough Pass and stop at East Coast Natureworld. Here, meet a Tasmanian Devil and other native animals. Travel into Freycinet National Park where you'll enjoy a guided walk with a naturalist guide. Then, journey to the seaside town of Bicheno.
Stay: Beachfront Bicheno
Bx1 Dx1
Day 3. Ross, Richmond, Eaglehawk Neck, Port Arthur
Discover the historic heart of Tasmania at Campbell Town and Ross. Continue south to Richmond, home to the famous Richmond Bridge. Take in dramatic scenes of Tasmania's rugged southern coastline from the narrow peninsula of Eaglehawk Neck. Continue on to the town of Port Arthur.
Stay: Port Arthur, Fox and Hounds Inn
Bx1 Dx1
Day 4. Port Arthur Historic Site, Harbour Cruise, Hobart
Like a Local - visit Port Arthur, once Australia's most notorious convict prison. Take a guided tour through this remarkable site that vividly evokes convict history. There is no better place to imagine how convict life would have been like. Later, join a cruise around the Isle of the Dead, to hear haunting stories about the convicts that were buried there. A Taste of Tasmania - travel to Hobart and dine overlooking the waterfront at Customs House Restaurant this evening.
Two Night Stay: Hobart, Grand Mercure Central Apartments
Bx1 Dx1
Day 5. Hobart Sightseeing Tour, Salamanca Market
Explore the old-world charm of Hobart on a tour of Salamanca Place, Constitution Dock and the harbour. Visit the famous Salamanca Market and peruse the treasures of Tasmania at over 300 stalls here. Perhaps join an optional excursion such as a full-day Bruny Island adventure (own expense)
Bx1
Day 6. Mt Field National Park, Lake St Clair, Strahan
Framed by lush vegetation, three-tiered Russell Falls is the jewel in the crown of Mt Field National Park. After a short walk to see the famed falls, continue to World Heritage-listed Cradle Mountain-Lake St Clair National Park. Marvel at the pristine wilderness on the shores of Lake St Clair. Travel by coach to the town of Strahan and enjoy a buffet dinner at View 42º Restaurant and Bar this evening.
Stay: Strahan Village Hilltop
Bx1 Dx1
Day 7. Strahan, Gordon River Cruise, Sarah Island Tour, Cradle Mountain
This morning, board a luxury vessel for a unique cruising experience. Glide across the still waters of Macquarie Harbour and enter a true wilderness region, the Franklin-Gordon Wild Rivers National Park. Continue deeper into the heart of Tasmania's World Heritage-listed Wilderness region to Sarah Island. This remote location was the site of Tasmania's oldest convict settlement, operating from 1822 to 1833, and at the time, was also home to the largest ship building yard in Australia. It's when towering Huon pines were felled by convicts and floated downstream to be transformed into sailing vessels. Here, enjoy an intriguing tour of these historic convict ruins. Then reboard your cruise, passing by the entrance to the Great Southern Ocean, known as Hell's Gate, and enjoy a buffet lunch on board before returning to Strahan. Rejoin your coach and journey through stirring landscapes of forests, rivers and lakes, bound for the mesmerising Cradle Mountain. Special Stay - stay immersed in nature at Cradle Mountain Chateau.
Stay: Cradle Mountain Chateau
Bx1 Lx1 Dx1
Day 8. Cradle Mountain, Dove Lake, Sheffield, Stanley and The Nut, Smithton
Take in the serenity of Cradle Mountain-Lake St Clair National Park. This is quintessential Tasmania, where bewildering landscapes covered with alpine flora leave you wondering about life's priorities. Visit Waldheim Chalet and take in the glorious vistas from the shore of Dove Lake. Then travel via Sheffield, the town of murals, to the fishing village of Stanley, set in the shadow of The Nut - a striking rocky outcrop rising over 137 metres from the sea. Arrive in Tasmania's north-western town of Smithton, and enjoy a relaxing dinner. Special Stay - relax at the charming Tall Timbers Hotel.
Stay: Smithton, Tall Timbers Hotel
Bx1 Dx1
Day 9. Ashgrove Cheese Factory, Great Lakes Plateau, Launceston, Farewell Dinner
Like a Local - sample some of Tasmania's finest handmade cheese during a tour of the Ashgrove Cheese Factory. Afterwards, journey to the Great Lakes Plateau, admiring the vast lakes that draw anglers from all over Australia. Then continue to Launceston where tonight you'll enjoy a Farewell Dinner and Drink.
Stay: Mercure Hotel Launceston
Bx1 Dx1
Day 10. Cataract Gorge, Tamar River Cruise, Woolmers Estate, Depart Launceston
A Taste of Tasmania - enjoy the hotel's breakfast quiches before exploring Cataract Gorge. Later, board a cruise along the Tamar River then continue to Woolmers Estate. Your tour concludes with a transfer to Launceston Airport.
Bx1
QUOTE REQUEST


Book with confidence
Holidays Direct is an Australian registered Travel Agency affiliated with the Jetset Travelworld Group with AFTA membership and Travel Compensation Fund accreditation. We are proud members of the ICCA and our consultants have undertaken cruise training and hold current ICCA accreditation.
Use a Licensed Travel Agency for the benefit of added protection:
In Australia, licensed travel agencies contribute to the Travel Compensation Fund (TCF). The TCF is used to compensate consumers who do not receive any travel services purchased from a licensed travel agency, travel wholesaler or travel supplier. Claims against the TCF are reviewed by an independent Board of Trustees.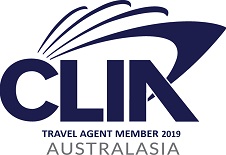 TOP