HOLIDAYS DIRECT DISCOUNT GUARANTEE
Book any Travelmarvel Tasmania tour with us and we will provide you with a further 5% discount off the best available price we obtain from Travelmarvel. Our discount can be used in conjunction any other Travelmarvel offers that you may be entitled to ie. Earlybird, Early Payment, Past Traveller etc.

5 DAY WESTERN WONDER
---
Hobart • Strahan • Cradle Mountain • Lanceston
On Travelmarvel's 5 day Western Wonder tour, discover the pristine wilderness, heritage towns and cultural sights. This tour will begin in Hobart and end in Launceston. Visit Cradle Mountain-Lake St Clair National Park and take a guided cruise along the World Heritage-listed Gordon River.
Accommodation:

Well located, clean and comfortable hotels

Tour Highlight:

Stay overnight at the luxurious Cradle Mountain Chateau

Quality Dining:

Includes up to 9 meals
Departures from Sep 2013 - May 2014
From

$1595

(Breakfast only) or

$1745

(Dinner and Breakfast) per person twin share
Single and Triple rates also available - please enquire
Remember this is the from price before any eligible discounts have been applied
Call 1300 300 633 or email for our discounted quote, to book or just to discuss this tour.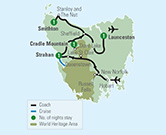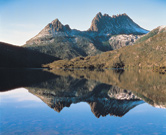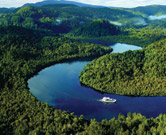 NB. Click on map to enlarge
DEPARTURES
DATES

Start Date
End Date
Availability
22 Sep 2013
26 Sep 2013
Yes
6 Oct 2013
10 Oct 2013

Guaranteed Departure

20 Oct 2013
24 Oct 2013
Yes
3 Nov 2013
7 Nov 2013
Yes
17 Nov 2013
21 Nov 2013
Yes
1 Dec 2013
5 Dec 2013
No
15 Dec 2013
19 Dec 2013
Yes
29 Dec 2013
2 Jan 2014
No
19 Jan 2014
23 Jan 2014
Yes
26 Jan 2014
30 Jan 2014

Guaranteed Departure

2 Feb 2014
6 Feb 2014
No
16 Feb 2014
20 Feb 2014
Yes
23 Feb 2014
27 Feb 2014
Yes
2 Mar 2014
6 Mar 2014
No
9 Mar 2014
13 Mar 2014
Yes
23 Mar 2014
27 Mar 2014
No
30 Mar 2014
3 Apr 2014
Yes
13 Apr 2014
17 Apr 2014
No
27 Apr 2014
1 May 2014
Yes
11 May 2014
15 May 2014
Yes
Room Types*
Meal Plan Options
Double/Twin
Single
Triple
Room and Breakfast from
$1,595.00
$1,995.00
$1,515.00
Room, Breakfast and Dinner from
$1,745.00
$2,145.00
$1,658.00
* Number of travellers, per person price. All prices displayed in Australian Dollars.

BOOK WITH HOLIDAYS DIRECT FOR A BONUS 5% DISCOUNT OFF ANY TRAVELMARVEL TOUR
CHOICE OF MEAL PLANS
Options Available:
Room and Breakfast
Room, Breakfast and Dinner
No matter which meal plan you choose, you'll be able to enjoy a Welcome and Farewell Dinner with your fellow travellers, giving you the opportunity to taste local cuisine and all included in the cost of your tour.
ITINERARY
Please note: Dx1 = Dinner; Lx1 = Lunch and Bx1 = Breakfast. However the actual included meals will depend upon the MEAL PLAN that you choose to purchase with the tour.
Day 1. Arrive Hobart, Derwent Valley, Mt Field National Park, Strahan
Travel through the Derwent Valley to the historic town of New Norfolk. Continue to Mt Field National Park, where you'll take a short walk to see the beautiful Russell Falls. Then, make your way into Cradle Mountain-Lake St Clair National Park. Lake St Clair was formed by glaciers more than 10,000 years ago and is a wonderful photo opportunity. Arrive in the quaint village of Strahan this evening. Enjoy impressive vistas across the harbour while you dine at View 42° Restaurant and Bar this evening.
Stay: Strahan Village Hilltop
Dx1
Day 2. Strahan, Gordon River Cruise, Sarah Island Tour, Cradle Mountain
Enjoy a guided cruise on the World Heritage-listed Gordon River. Travel this ancient river as your guide explains the area's unique flora and fauna. Wander through one of the world's oldest rainforests at Heritage Landing, visit Sarah Island, then cruise past Hell's Gate, a narrow passage that has claimed many ships. Enjoy lunch on board before returning to Strahan. This afternoon, make your way to Cradle Mountain-Lake St Clair National Park. Special Stay - stay immersed in nature at Cradle Mountain Chateau.
Stay: Cradle Mountain Chateau
Bx1 Lx1 Dx1
Day 3. Cradle Mountain, Dove Lake, Sheffield, Stanley and The Nut, Smithton
Discover the World Heritage-listed Cradle Mountain-Lake St Clair National Park. Journey to quaint Waldheim Chalet, before arriving at the shores of Dove Lake with its magnificent backdrop, Cradle Mountain. Continue to Sheffield, the 'Town of Murals', then travel to the fishing village of Stanley and see the impressive volcanic outcrop, The Nut. Special Stay - relax at the Tall Timbers Hotel.
Stay: Smithton, Tall Timbers Hotel
Bx1 Dx1
Day 4. Ashgrove Cheese Factory, Great Lakes Plateau, Launceston
Like a Local - take the opportunity to sample some of Tasmania's finest handmade cheese during a guided-tour of Ashgrove Cheese Factory. Travel through Deloraine, set in the shadow of the Great Western Tiers, to the Great Lakes Plateau. Continue to the Great Lake, a popular freshwater fishing spot, then make your way to Launceston where tonight you'll enjoy a special Farewell Dinner and Drink with your crew and fellow travellers.
Stay: Launceston, Mercure Hotel
Bx1 Dx1
Day 5. Cataract Gorge, Tamar River Cruise, Woolmers Estate, Depart Launceston
A Taste of Tasmania - enjoy the famous egg and bacon breakfast quiches at your hotel before embarking on a trip to Cataract Gorge. Take a stroll through the charming gardens, then board a cruise where a local guide will highlight characteristics of the Tamar River. Visit Woolmers Estate, renowned for its historic mansion and impressive rose garden which is considered to be one of the finest collections of historic roses in the Southern Hemisphere. Delight in the opportunity to wander around this beautiful property before transferring to the airport.
Bx1
QUOTE REQUEST


Book with confidence
Holidays Direct is an Australian registered Travel Agency affiliated with the Jetset Travelworld Group with AFTA membership and Travel Compensation Fund accreditation. We are proud members of the ICCA and our consultants have undertaken cruise training and hold current ICCA accreditation.
Use a Licensed Travel Agency for the benefit of added protection:
In Australia, licensed travel agencies contribute to the Travel Compensation Fund (TCF). The TCF is used to compensate consumers who do not receive any travel services purchased from a licensed travel agency, travel wholesaler or travel supplier. Claims against the TCF are reviewed by an independent Board of Trustees.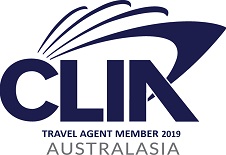 TOP