LADY ELLIOT ISLAND RESORT
---
Overview l Photos l Location l Facilities l Dive Sites l Activities l Accommodation l Rates and Bookings
Overview

At Lady Elliot Island Resort, you set the pace, grab the latest bestseller and find your favourite stretch of deserted beach, or take part in our program of daily activities.
Experienced scuba divers and snorkellers can join one of our regular group dives, where our qualified dive staff will take you to their favourite reef sites - swim with the majestic manta rays at the Lighthouse Bommie, drift dive in the late afternoon at Encounters, or explore secret caverns at the Blow Hole and Hiro's Cave. Dive sites are accessed either straight from the beach or via a short boat ride. Visibility regularly exceeds 20 metres, with water temperatures ranging between 18 and 27 degrees Centigrade.
The lagoon area is ideal for novice snorkellers and you'll find enough tropical fish and colourful coral to keep you out there for hours. Snorkelling lessons for beginners are conducted in the pool.

Photos

Click here to view Photo Gallery

TOP
Location & Transfers
Lady Elliot Island is approximately 80kms north-east of Bundaberg off the Queensland coast.
By Car
Drive to Hervey Bay or Bundaberg via the Bruce Highway (approximately 4 hours from Brisbane). Connect with daily Seair flights to Lady Elliot Island.
By Tilt Train
Queensland Rail offers a very fast Tilt Train service which operates daily between Bundaberg and Brisbane. Please note that recent Queensland Rail timetable changes means that guests will need to overnight in Bundaberg before flying to Lady Elliot Island.
By Bus/Coach
Express coaches from Brisbane to Hervey Bay and Bundaberg operate daily. Connect with Seair flight to Lady Elliot Island.
By Air
Regional airlines fly from Brisbane to Hervey Bay and Bundaberg, where they connect with daily Seair flights to Lady Elliot Island.
Seair also operates daily charter flights from South East Queensland (pickups can be arranged from Coolangatta on Gold Coast, Brisbane and Maroochydore on the Sunshine Coast) direct to Lady Elliot Island.
RETURN AIR TRANSFERS:
Hervey Bay & Bundaberg
Adult: $259 - Child: $139 (3-12yrs)
Gold Coast, Brisbane & Sunshine Coast
Adult $639 - Child $350
NB. Prices are a guide only and subject to change, please reconfirm at time of booking.

TOP
Facilities
Our facilities include:
Lagoon Bar
Dining Room
Cafe Bistro
Island Boutique
PADI Resort Dive Shop
Salt Water Pool
Beach Volley Ball Court Conference Room (seating for 50)
Hot/Cold Showers and Change Room for day guests
Activities Centre (including library and marine creature displays).

TOP
Dive Sites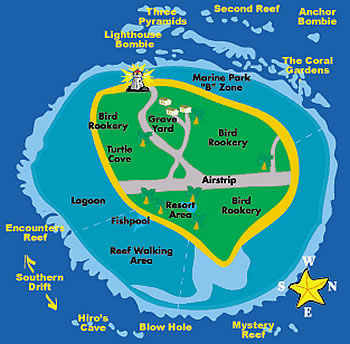 THE BLOW HOLE - DEPTH 25M
This popular site is on the eastern side of the island. It has two entrances. One on the top of the reef at 14-16 metres, just a short distance from the mooring. The main entrance however is on the reef wall and is a large opening at 20-25 metres. The main cavern is around 20 metres in length. This is a superb dive site with Lion Fish, Manta Shrimp, Wobbegongs and the unique Gnome Fish seen in the area.
LIGHTHOUSE BOMMIE - DEPTH 14-15M
Lighthouse Bommie is a set of coral heads approximately 100 metres off shore and is conducted as either a Boat or Shore dive. A rope trail has been laid from an easy shore entry to the bommies. It is a favourite haunt all year round for Manta Rays; some four metres from tip to tip. The site also plays host to a variety of marine life such as Moray Eels, Bull Rays, Schooling Barracuda, Coral Trout, Small White Tip Reef Sharks and others too numerous to mention.
THREE PYRAMIDS - DEPTH 18M
The Three Pyramids is a short boat ride from the western side of the island. An easy decent can be made down a permanent mooring and puts the diver almost on top of the first of three large coral heads (bommies). At this site you will find schools of Cardinals, Anemone Fish, Turtles and Eagle Rays. The Three Pyramids is a great starting point for a drift dive to the Anchor Bommies or the Outer Scatters depending on the direction of the current.
ANCHOR BOMMIES - DEPTH 21M
This site is one of Lady Elliot Island's premium dive locations. Two ancient Admiralty anchors lie at the bottom of the site. Marine life that can be seen here include Manta Rays, Purple Leafy Scorpion Fish, Cleaner Shrimp and a large Shoveled Nosed Ray. This bommie is covered with both soft and hard corals.
CORAL GARDENS - DEPTH 12M
This is an extremely good night dive site. All types of marine life can be observed as they slumber, while night dwellers such as the Painted Cray can be found out of their day time hiding place.
ENCOUNTERS - DEPTH 6-14M
This is an amazing coral dive with large plate and staghorn sections, and explosive fish action. A fantastic drift dive for late in the afternoon. At times a large number of Manta Rays can be seen in this area. It is also populated with schools of Rabbitfish, Redthroat and Spangled Emperor. It is also not uncommon to be accompanied on this dive by a pair of sizeable Blue Angelfish or Moorish Idols.

TOP
Activities
Glass Bottom Boat Tours:
A full commentary is provided as we drift over the wonders of the Great Barrier Reef. A great way to see the majestic manta rays, dolphins and whales (in season) without getting wet!
Reef Walking:
When the tide is low, you can venture all the way through the lagoon from the beach to the reef edge. You'll see a multitude of marine life as our experienced guide introduces you to the complexities of the reef eco-system.
Nature Walks:
Learn about the unique eco-systems on a coral cay during our guided walks around the island. The itinerary changes every day to highlight the natural wonders of the beach and lagoon, the bird rookery, the lighthouse and the historical artifacts left behind by the guano miners.
Whale Watching:
From June to October, the great humpback whales make their annual migration from the Antarctic to the warm waters off the central Queensland coast. You don't need to go out on a boat; just sit and watch the passing parade from the beach or reef edge.
Turtle Watching:
From November to February, Green and Loggerhead turtles come ashore at night to nest. Our guides will help you find the best vantage point without disturbing the turtles while they lay their eggs or the tiny hatchlings as they make their way to the water.
Fish Feeding:
A multitude of reef fish appear at the "fish pool" everyday, and our activities officer will show you how to hand feed them.
Slide Shows & Evening Lectures:
Learn more about the Great Barrier Reef and Lady Elliot Island during our evening presentations in the Reef Education Centre.
Just for Kids:
Most of our activities will appeal to every member of the family but we also have a Junior Reef Rangers Club for youngsters from 3 to 12 years, which runs during Queensland school holidays.
Other Activities Include:
Try your hand at archery, volleyball, badminton, frisbees, ping pong, darts, pool, cards and board games.

TOP
Accommodation
Lady Elliot Island Eco Resort has been undergoing renovations and refurbishment in 2008 with particular focus on the accommodation. The Suites, Reef Units and Garden Units have been painted throughout and now have queen size beds. The Suites and Reef Units have new furniture including Balinese style bedheads, bedside tables, wardrobe and mirror plus new bed linen.
---


Click image to enlarge

Capacity = 4
Queen bed & 2 singles


Island Suite / 2 Bedroom
Absolute beach frontage - comfortable accommodation on the Barrier Reef .  This spacious suite accommodates up to four people. Spend time enveloped in the island experience on your own private balcony.  In whale season humpback whales can be seen breaching on this particular side of the island.  Enjoy your own separate airconditioned lounge with lagoon views over Sunrise Beach. In turtle nesting season (Nov to Jan) the adults come ashore to nest within a few metres of this suite, with the hatchlings emerging from the sand in February - March.

A kitchenette forms a centre point for private socials with new found friends at any time.  The kitchenette consists of a bar fridge, tea and coffee making facilities and basin.  The main bedroom (queen bed) has lagoon views while the second bedroom (two single beds) has island views.  The two bedroom suite has a  spacious bathroom which includes a shower, hairdryer and double 240V shaver plug point.

All rooms in the suite have several 240V power points for low power devices like camera chargers. 

 All linen supplied and changed regularly.

---


Click image to enlarge

Capacity = 4
Queen bed & 2 single bunks


Reef Unit
Holiday accommodation on the Barrier Reef.  Arranged in blocks of three, some of these units have just a queen bed but most of these units are furnished with a queen and a bunk bed comprising two singles, making them ideal for families.  Polished timber floors, wardrobe space and a ceiling fan are available in every Reef Unit.  Tea and coffee making facilities and a mini bar fridge are provided, and each unit has several 240V power points for low power devices like camera chargers (see Australian plug format).  There are also power points in the ensuited roomy bathroom which has shower, toilet and basin.  Each unit has its own large balcony with patio furniture arranged so that you can make the most of the views, and this is enhanced by the fact that all the Reef Units are slightly elevated (three steps up).

The majority of Reef Units are less than 10 metres from Sunrise Beach, which means you are in an ideal position to watch the activities of the seasonal wildlife, be it migrating humpback whales, bird nesting, turtle nesting or turtle hatching season. ( see nature event calendar for seasons).  No matter the time of year though, it is always the right season to watch spectacular sunrises over the lagoon or just watch the amazing differences to the view that the difference in tide makes. 

All linen supplied and changed regularly. Communal washing machines, dryers and ironing facilities are available.

---

Capacity = 6
Bunk Style single beds


Shearwater Room
Budget family accommodation on the Barrier Reef  - Suitable for large families and groups of friends, Shearwater rooms can sleep up to six people in bunk-style single beds. Polished timber floors and large glass sliding doors add to the feel of the room. All Shearwater rooms have private bathroom and wall fan. 240V power points are available in the rooms for low power devices such as camera chargers (see Australian plug format)  

Each room has a private balcony set with table and chairs for relaxing beginning or end to the day, or just to simply enjoy the surrounds.  Rooms are set in the gardens, located approximately 30 metres from Sunrise Beach.   The rooms are slightly elevated (three steps up) and this allows a greater sense of privacy as well as a  better view of the gardens and wildlife.  Enjoy the hustle and bustle of activity amongst the birdlife during the bird season, or if you are lucky you might spot a turtle laying eggs or hatchlings emerging during the turtle hatcing season.

All linen supplied and changed regularly. Communal washing machines, dryers and iroing facilities are available.Communal coffee and tea facilities are available.

---

Capacity = 4
Bunk beds


Eco Huts
Practical and economical budget accommodation on the Barrier Reef -  The Eco Huts are roomy permanent safari-style tents with polished wooden floors.  Each hut caters to four people with two sets of double bunk single beds in each.  The huts are constructed with canvas ceiling and walls with a flysheet over the top for added shading and temperature control.  All windows have fly screens and zip up canvas portions for privacy, in addition to privacy dividers mounted externally to all side windows.  Electric lighting and power points are available in every cabin as well as a free standing fan.  A small entry patio is furnished with chair and table for added relaxation. The power points are 240V for low power devices like camera chargers (see Australian plug format),  Lockers are available on the island for valuables that you may want to secure.

All Eco Huts are situated within 20 to 30 metres of  Sunrise Beach, close enought to be lulled asleep by sound of the waves at night.  Some are close to the shady Pisonias ( eight of which are still the original ones from pre-guano-mining days) whilst others are situated with a more direct view of the ocean.  During bird season the Eco Huts provide ideal viewing spots to observe the antics of the many birds nesting on the island, whilst enjoying the comforts of the accommodation.

 Communal coffee and tea facilities are available as well as toilets, showers, washing machines, dryers and ironing needs.

 All linen supplied and changed regularly.

---
Rates and Bookings

Holidays Direct offers discounts off the rates for this property all year round
Our discount is in addition to any other specials on offer
Call 1300 300 633 or email for a quote or click the button below for online quotes/ bookings
Book with confidence
Holidays Direct is an Australian registered Travel Agency affiliated with the Jetset Travelworld Group with AFTA membership and Travel Compensation Fund accreditation. We are proud members of the ICCA and our consultants have undertaken cruise training and hold current ICCA accreditation.
Use a Licensed Travel Agency for the benefit of added protection:
In Australia, licensed travel agencies contribute to the Travel Compensation Fund (TCF). The TCF is used to compensate consumers who do not receive any travel services purchased from a licensed travel agency, travel wholesaler or travel supplier. Claims against the TCF are reviewed by an independent Board of Trustees.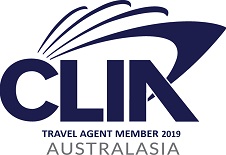 TOP