HOLIDAYS DIRECT DISCOUNT GUARANTEE
Book any 7 Night or longer TasVacations package with us and you will receive a 5% discount off the best available price for car hire, accommodation and most sightseeing activities.
CHAT WITH AN EXPERT call 1300 300 633 or email for information, quotes and bookings.
7 NIGHT ADVENTURER


Summary
Inclusions
Dates & Prices
Terms & Conditions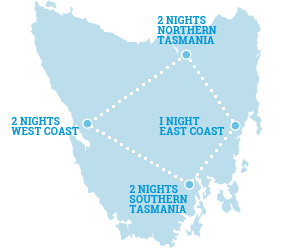 If time is not on your side, seven nights in Tasmania offers the opportunity to get a taste of the state's highlights.
For an even more relaxed 7 night holiday, we recommend basing yourself in specific regions and taking your time to really get a feel for our way of life.
This suggested itinerary provides some ideas on what can be seen in seven days, however as everyone has different needs, your Tasmanian travel specialist will tailor an itinerary to suit the style of holiday you desire.

Your 7 Night Adventurer Includes:
7 nights statewide accommodation to suit your style and budget
7 days all inclusive economy automatic car hire
National Parks Pass - allowing entry into statewide parks
From price staying with Discovery Parks.
Accommodation is available with with TasVillas, Discovery Parks, Innkeepers Tasmania and Choice Hotels or one of our many partner properties - Call 1300 300 633 to book now or contact us to customise.
Accommodation Chain
SUMMER/AUTUMN
Price Per Person, Twin Share
WINTER
Price Per Person, Twin Share
TasVillas
Self-Contained
From $765*
For travel 10.02.18 - 31.03.18
From $692*
For travel 01.06.18 - 31.08.18
Innkeepers
Discovery Inns
Motel Style
From $769*
For travel 10.02.18 - 30.04.18
From $720*
For travel 01.05.18 - 31.08.18
Discovery Parks
Bronze Standard
Cabin Style
From $832*
For travel 10.02.18 - 31.03.18
From $646*
For travel 01.06.18 - 31.08.18
Innkeepers Hotels
Hotel Style
From $909*
For travel 10.02.18 - 30.04.18
From $790*
For travel 01.05.18 - 31.08.18
Choice Hotels
Hotel Style
On Request
Please Contact Holidays Direct
On Request
Please Contact Holidays Direct
*Subject to availability. Per person, twin share. Quoted prices should be used as a guide only and will fluctuate depending on exact dates, accommodation options chosen and any seasonal variances. Some property locations may include an additional surcharge or minimum night stay, details of which can be provided when booking. Not all accommodation groups feature properties in all statewide locations. Where necessary, TasVacations will substitute accommodation of the same or superior standard. Car hire is fully inclusive of excess reduction coverage and all fees and charges excluding fuel. Upgrade options, itinerary variances and extensions can be arranged and additional costs may apply. Please contact Holidays Direct 1300 300 633 to request a quote for the period you wish to travel.
QUOTE REQUEST


Book with confidence
Holidays Direct is an Australian registered Travel Agency affiliated with the Helloworld Group. We are also proud members of the CLIA and our consultants have undertaken cruise training and hold current CLIA accreditation.
Our friendly staff have Cruise Consultant Accreditation:
CLIA (Australasia) Cruise Accreditation Program has been established since 1996 and is a way to recognise dedicated consultants who develop extensive cruise industry knowledge and superior selling skills. The program is modeled on the successful Cruise Counsellor Certification program developed by Cruise Lines International Association (CLIA) in 1992.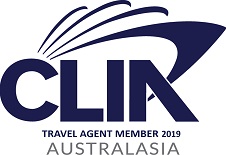 TOP