We are CRUISE specialists and here to help you!
PLUS we discount ALL fares, even SALE fares!

We DISCOUNT all cruise fares including sale fares!
We offer a NO OBLIGATION HOLD on cabins for up to 5 days without deposit.
Make a booking with us on any Australian or Worldwide cruise departures and enjoy a BONUS discount off the best available price we can obtain for you. Our discount is combinable with sale fares and past passenger fares. PLUS, receive up to $100 on board spending money* on our select sailings!
Give us a call now 1300 300 633 to discuss your next cruise holiday!
"Select Sailings" we have a number of cruises with P&O Cruises, Princess Cruises & Carnival Cruises that offer up to $100 onboard credit per cabin* - please ask us which ones!
Are you current or former ADF or NZDF? You may be eligible for a bonus onboard credit - talk to us!
We are the accredited travel agency for DEFCOM providing great service and benefits.
We book Cruiselines worldwide - all at
DISCOUNT

fares
Australia, NZ, Pacific, Asia, Alaska, Caribbean, Mexico, Mediterranean, Europe, America & Antarctica.
Email or call and speak to a cruise specialist 1300 300 633 to discuss your next cruise holiday.
6 Reasons you should book with us
Enjoy our

"no obligation"

reservation policy.
No credit card or deposit is required to hold a cabin for up to 5 days.
Book with confidence, we are an Australian travel agency and, a member of the International Cruise Council of Australia.
We book for cruise lines in Australia and Worldwide, including River Cruises.
We give a

BONUS

discount off the best available price on all cruises.
Plus we have

BONUS

onboard credits for selected cruise sailings.
Amazing Celebrity Cruises from Sydney
Choosing a cruise line that calls Sydney its port is difficult as there are so many! However, here at Holidays Direct, we have some recommendations for you. If you are looking for the quintessential cruise experience, you should definitely give some of our suggestions a try. We know cruises and we work with over twenty different cruise lines to not only find the best deals on cruse holidays, but also to give you the most amazing experience that you can imagine. From Celebrity Cruises from Sydney to Princess Cruises from Brisbane, we have the perfect cruise holiday for your time, budget and personality. Make sure to book your next cruise throughout Holidays Direct.
Find Great Deals Like Princess Cruise Specials
At Holidays Direct, we have the experience and the knowledge to find the absolute greatest deals on cruises. We will even discount our special pricing to make sure you are getting the finest deals in Australia on cruises. We are a licensed travel agency that is totally focused on providing travel services for our clients from travel around Australia to international travel. Contact us today for amazing deals on cruises and other fantastic holidays.
Pricing
Please note that the prices shown on this website are updated regularly, normally on a weekly basis but that they are not current real time. While we endeavour to keep pricing as up-to-date as possible, the advertised prices shown here may differ slightly from the live prices in our booking system. Please call us 1300 300 633 for a current "real time" price quote as fluctuations may be higher or lower.
Book with confidence
Holidays Direct is an Australian Travel Agency affiliated with the Helloworld My Travel Group and is a proud member of CLIA. Our specialist cruise consultant has undertaken extensive cruise training and holds current CLIA accreditation.
Our friendly staff have Cruise Consultant Accreditation:
CLIA (Australasia) Cruise Accreditation Program has been established since 1996 and is a way to recognise dedicated consultants who develop extensive cruise industry knowledge and superior selling skills. The program is modeled on the successful Cruise Counsellor Certification program developed by Cruise Lines International Association (CLIA) in 1992.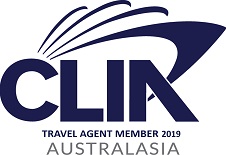 TOP