HOLIDAYS DIRECT DISCOUNT GUARANTEE
Book any AAT Kings Tasmania tour with us and we will provide you with a further 5% discount off the best available price we obtain from AAT Kings. Our discount can be used in conjunction any other AAT Kings offers that you may be entitled to ie. Earlybird, Early Payment, Past Traveller etc.

12 DAY TASMANIA SPECTACULAR
---
Immerse yourself in the unique natural surroundings of Tasmania on this incredible 12 day tour. Discover three-tiered Russell Falls in Mt. Field National Park, cruise the Gordon River and view spectacular Cradle Mountain. Indulge in wine tastings at Rosevears Vineyard, explore Freycinet National Park and visit historic Port Arthur. Plus, see a Tasmanian Devil.
12 Days, priced from A$4135
Guided:

Premium

Departs from & returns to Hobart
Remember this is the from price before any eligible discounts have been applied
Call 1300 300 633 or email for our discounted quote, to book or just to discuss this tour.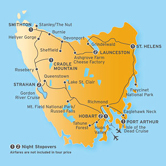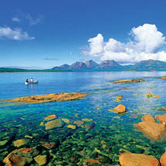 NB. Click on map to enlarge
DEPARTURES & PRICES


Valid: 30 September 2011 - 31 May 2012
Departs on
Returns on

Twin Share Per Person $A

Single Per Person $A

Fri 30 Sep 2011

GD

Tue 11 Oct 2011

4135

5120

Fri 11 Nov 2011

GD

Tue 22 Nov 2011

4135

5120

Fri 02 Dec 2011

GD

Tue 13 Dec 2011

4235

5220

Fri 13 Jan 2012

GD

Tue 24 Jan 2012

4235

5220

Fri 03 Feb 2012

GD

Tue 14 Feb 2012

4235

5220

Fri 10 Feb 2012
Tue 21 Feb 2012

4235

5220

Fri 24 Feb 2012
Tue 06 Mar 2012

4235

5220

Fri 16 Mar 2012

GD

Tue 27 Mar 2012

4235

5220

Fri 30 Mar 2012
Tue 10 Apr 2012

4235

5220

Fri 06 Apr 2012

GD

Tue 17 Apr 2012

4235

5220

Fri 13 Apr 2012
Tue 24 Apr 2012

4235

5220

Fri 04 May 2012
Tue 15 May 2012

4235

5220

Fri 08 Jun 2012
Tue 19 Jun 201

4135

5120

Fri 07 Sep 2012
Tue 18 Sep 2012

4305

5290

Fri 28 Sep 2012

GD

Tue 09 Oct 2012

4305

5290

Fri 19 Oct 2012
Tue 30 Oct 2012

4305

5290

Fri 09 Nov 2012

GD

Tue 20 Nov 2012

4305

5290

Fri 23 Nov 2012
Tue 04 Dec 2012

4305

5290

Fri 30 Nov 2012

GD

Tue 11 Dec 2012

4305

5290

Fri 21 Dec 2012
Tue 01 Jan 2013

4405

5390

Supplement options and discounts
Single traveller accommodation supplement

ADD A$985 to Twin Share rate

Young traveller's discount (please enquire)

SAVE A$845

Concession card holders

SAVE A$45

Group travel

Call 1300 300 633 to discuss your groups needs

Triple discount

SAVE A$210

Holidays Direct BONUS 5% Discount

SAVE 5% off AAT Kings price after all other discounts

GD

Denotes Guaranteed Departures
ITINERARY
Day 1: Arrive Hobart
Transfer from Hobart Airport to your hotel, then we'll take an afternoon tour of Hobart. Our orientation tour takes in Battery Point, Salamanca Place, the Botanic Gardens and Constitution Dock. Tonight enjoy a welcome drink with your Tour Director and fellow passengers.
Hotel: Hotel Grand Chancellor, Hobart, 2 nights. D
Day 2: Huon Valley
There's time this morning to visit the iconic Salamanca Market. The diverse range of nearly 300 stallholders includes original, hand-made Tasmanian pieces, from woodwork to jewellery, fashion to fanciful, glassware and ceramics. Then over the undulating hills of the apple-growing Huon Valley, we make a beeline for the Tahune Forest AirWalk, for a guided walk amongst the towering treetops, out over the Huon and Picton Rivers on a cantilevered, suspended walkway. Later travel to Mt. Nelson from which we'll see a spectacular view of Hobart and the Derwent River. B
Day 3: Russell Falls
This morning we head west to New Norfolk and the magnificent Mt. Field National Park, Tasmania's oldest, and location of the spectacular three-tiered Russell Falls. After morning tea we take the winding journey up to Lake St. Clair - amazing vistas await us. Back down to Queenstown, along the rainforest bordered road of World Heritage protected Franklin-Gordon Wild Rivers National Park to coastal Strahan.
Hotel: The Strahan Village, Strahan, 2 nights. B D
Day 4: Gordon River Cruise
Start the day your way - simply relax or explore the fishing village of Strahan - enjoy an optional, highly recommended, train ride on the West Coast Wilderness Railway from Queenstown to Strahan or maybe visit the Huon Pine Museum. Later we take the Gordon River Cruise, where the wilderness comes to the water's edge. You'll be awestruck by the beauty of the dark waters, stained amber by buttongrass tannins, reflecting the untouched wilderness. We stop at Sarah Island and discover the ruins of the brutal penal colony. See Hell's Gate and Heritage Landing, site of the 2,000 year old Huon Pine. B D
Day 5: Cradle Mountain
Discover the mining and Hydro Electric towns of Rosebery and Tullah, as we travel to the sensational Cradle Mountain National Park. After lunch we'll take you up to Waldheim and gorgeous Dove Lake to see spectacular Cradle Mountain. The afternoon is yours. Explore the Australian National Wilderness and Landscape Gallery or just marvel at the view and breathe in the fresh air.
Hotel: Cradle Mountain Chateau, Cradle Mountain. B D
Day 6: The Nut, Stanley
This morning we travel through the rainforest of Hellyer Gorge State Reserve to Wynyard, on the North Coast, for morning tea. En route to Table Cape, home of tulips, you'll think you're in a butter commercial on your drive through rolling green hills with Friesian cows galore. Visit Highfield Historic Site, which was built by the Van Diemen's Land Company, for a guided tour of the estate. Lunch with a view – of the idiosyncratic landform 'The Nut', the plug of an extinct volcano. Then the hills keep rolling from Irishtown to Allendale Gardens for your next guided tour. We'll arrive at Smithton for dinner.
Hotel: Tall Timbers Hotel, Smithton. B D
Day 7: Sheffield - Launceston
We travel east along the coast through Penguin, Ulverstone and Devonport up to Braddon's Lookout for a view over the Forth Valley and Bass Strait. Lunchtime, and a wander through town, is at Sheffield, the town of murals. We then head to Ashgrove Farm Cheese Factory for a presentation on cheese making and some delicious product tasting - yum! Later we continue to Launceston.
Hotel: Hotel Grand Chancellor, Launceston, 2 nights. B D
Day 8: Launceston
Explore Cataract Gorge – wilderness in the city. Just two minutes out of Launceston and you're surrounded by rivers, a gorge and exotic flora and fauna. Enjoy a walk across the suspension bridge, spot peacocks or take the chairlift for an aerial view of this fascinating urban wilderness. Later discover the Tamar Valley and the Swiss village of Grindelwald.

You are invited to Josef Chromy Wines. On arrival the open log fire welcomes you and the views from the surrounding vineyards and lakes provide an idyllic location to enjoy tasting some of the estate-grown wines followed by Tasmania's fresh local produce for lunch. B L
Day 9: St. Helens
A guided tour at Bridestowe Lavender Farm (December to March) gets things rolling. En route to St. Helens we'll see the Legerwood Carved Memorial Trees in honour of fallen WWI soldiers, the old tin mining town of Derby and drive through the lush myrtle rainforest at Weldborough Pass.
Hotel: Tidal Waters Resort, St. Helens. B D
Day 10: Freycinet National Park
Breathtaking Freycinet National Park is first up. A guided walk with a National Park Ranger unveils astonishing views. Cape Tourville Lookout will amaze. Then onward to historic Richmond, site of Australia's oldest operational road bridge. This afternoon things get spectacular as we cross the 100 year old Denison Canal and make our way along the impressive cliff-lined coast. En route to Port Arthur we cross Eaglehawk Neck to the Tasman Peninsula and feast our eyes on the amazing vistas of Tasman's Arch, Devil's Kitchen and the Blowhole. Test your nerve on the optional lanternlit Ghost Tour of Port Arthur.
Hotel: Fox and Hounds Inn, Port Arthur. B D
Day 11: Port Arthur
Today, a fascinating guided walk of Port Arthur's infamous convicts prison and Historic Site, and a cruise around the Isle of the Dead. View the ruggedly spectacular sea cliffs from Pirates Bay Lookout. On our way back to Hobart we stop at the Bonorong Wildlife Sanctuary for an encounter with a Tassie Devil as well as other native animals.
Hotel: Hotel Grand Chancellor, Hobart. B D
Day 12: Depart Hobart
This morning you will be transferred to Hobart Airport for your onward flight. B
QUOTE REQUEST


Book with confidence
Holidays Direct is an Australian registered Travel Agency affiliated with the Jetset Travelworld Group with AFTA membership and Travel Compensation Fund accreditation. We are proud members of the ICCA and our consultants have undertaken cruise training and hold current ICCA accreditation.
Use a Licensed Travel Agency for the benefit of added protection:
In Australia, licensed travel agencies contribute to the Travel Compensation Fund (TCF). The TCF is used to compensate consumers who do not receive any travel services purchased from a licensed travel agency, travel wholesaler or travel supplier. Claims against the TCF are reviewed by an independent Board of Trustees.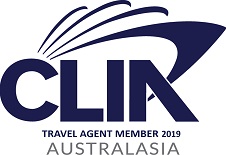 TOP